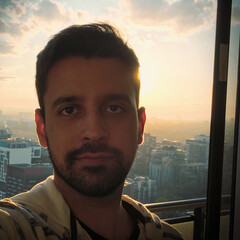 Waqas Iqbal
Sr. Technical Artist at EA Motive
Montreal, Canada
Summary
* 5+ Years of progressive experience in Game, and CG Industries
* Areas of expertise include: Characters, Props, Environments, Uber Shaders
* Efficient at realistic and stylized art direction
* Proficient in: Modeling, Surfacing, Rigging, Lighting, Comp
* Excellent knowledge of human anatomy and motion; eye for detail
* Experience supervising production of both Game and CG projects
Skills
Compositing
Look Development
Rendering
3D Modeling
Character Modeling
Environment Modeling
Hard Surface Modeling
Lighting
Low-poly Modeling
Prop Modeling
Rigging
Game Development
High-poly Modeling
Level Design
Vehicle Modeling
Shaders
Software proficiency
Productions
Movie

Space Between Stars

Year

2019

Role

CG Supervisor

Company

Guru Studio

TV Production

True and the Rainbow Kingdom

Year

2017

Role

CG Supervisor & Previosuly Surfacing Supervisor

Company

Guru Studio

TV Production

Paw Patrol

Year

2015

Role

Texture / Shader Artist

Company

Guru Studio

TV Production

Dinopaws

Year

2014

Role

Texture / Shader Artist

Company

Guru Studio

Mobile Game

Asphalt 7: Heat

Year

2012

Role

Level Artist

Company

Gameloft

Video Game

Orion: Dino Beatdown

Year

2012

Role

Freelance 3D Artist

Company

Trek Industries
Experience
Texture Artist > Surfacing Supervisor > CG Supervisor at Guru Studio

Toronto, Canada

This started off as an experiment to see what the animation side of things would be like. Offering a different challenge from game development, it pushed me to venture outside of my comfort zone and discover what I was really capable of. I've grown extremely fond of this studio, and the people that make it what it is.

I originally started off as just a texture artist, but with some guidance quickly became a surfacing supervisor for the Netflix show True & The Rainbow Kingdom, and established an updated pipeline for the surfacing department to be used for all projects going forward. Since then I've become a CG Supervisor working on an unannounced project. I can't wait to see what lies further ahead!

3D Artist at Gameloft

Toronto, Canada

January 2011 - January 2012

This was my first commercial employment in my career. My job was to create 3D models, texture, levels, and optimization all for the mobile platform.

I had a chance to work some a small team of highly talented individuals on a number of video games. Unfortunately some of them never saw the light of day, but others became the foundation of what mobile games are like today.